Traditional Sign Frames
---
These are simple and the most common sign holder, desk holders & frames in use today. They are available in Gold, Silver, Black & Bronze. These frames have many standard sizes. Any frame requires a custom quote but below are prices for the frames shown in this picture.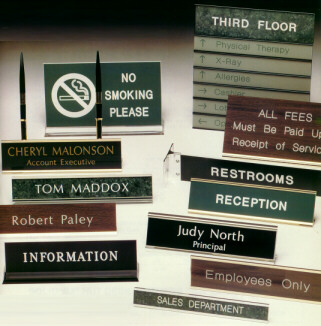 The prices here are for only the frames. The inserts or signs are extra and can be figured out on the plastic sign page.

Here are some sample prices:

1) 2" x 8" Desk Sign Holder (Judy North) Silver or (Reception) Gold - $10.25

2) Acylic Desk Sign Holder - 2"x8" (Information) Black or (No Smoking) Clear - $6.00

3) Wall Sign Holder (Sales Dept.)1"x8" - $5.00, 2"x8" - $7.00, 4"x12" - $15.00

4) Right Angle Sign Holders(Restrooms)2" - $9.00, 4" - $12.00, 10" - $20.00

5) Desk 2" x 8" Sign Holder w/ pen set (Malonson) - $47.50

As with any price quoted here please call us with any questions or problems you have with pricing
Other Signs and Signs Frames are available. Call for info.

Send orders or inquiries via e-mail to info@engraving.cc
PLEASE CALL US FOR MORE INFORMATION OR TO PLACE AN ORDER.
Phone 1 (617) 227-2921 - Fax 1 (617) 227-2756 - Toll Free 1-800-660-1913